---
During the past few years, bone conduction glasses have been the spotlight everywhere.
Since AI is all the rage these days, every company is trying to relate their product to artificial intelligence, naming them as smart glasses, AI assistant or showing off their product as AI chip integrated to help wearers record and analyze their daily life. Bone conduction technology combining with artificial intelligence does seem to be the future.
But after stripping out the fripperies and looking into the bone conduction sunglasses, I wonder, are they really worth it?
We analyzed and reviewed ALL bone conduction glasses there are on the market up till today in order to find the best ones and the worst.
In addition, we looked at the launching platforms, the sales channels of these popular sunglasses, purchased and reviewed each pair we have in our hands.
Specifically, we classify these glasses into 3 groups according to their sales channels, which are
Multichannel – meaning the brand sells both on big eCommerce platforms such as Amazon, eBay and its brand official website (1-4)
Official Site – meaning the brand only sells on its official website (or passed its crowdfunding stage) (5-8)
Crowdfunding – meaning the brand is still crowdfunding (in prototype stage or in production) at the moment (9-12)
The reason for this classification is that we want to do our due diligence to provide you with a solid buying source. The sales channel could be just a selling strategy, but it could also reflect the brand's confidence in its product.
At the end of this post, we will help you decide which glasses to buy and which to avoid (seriously).
Let's dive right in…
Let's face it, no bone conduction headphones could ever beat your everyday Apple EarPods in terms of sound quality and sound leakage.
Why?
Because the substantial mechanism of bone conduction sound transmission is different.
With bone conduction, the sound is transmitted through the cheekbones directly to your cochleas rather than through the air by the eardrum, which results in a weird feeling on both sides of your head when you first try it. Just plug your ears with fingers or earplugs and pay attention to your voice when talking, you'll know what I'm talking about.
So what's in it for you?
To put it simply, for the open-ear listening experience.
To listen with bone conduction technology, you don't block your ears. That will give you advantages for awareness of your surroundings even when you are walking or running while listening to music or answering the phone. This is significant for reducing the risk of accidents.
Also, because of the unique wearing style, it provides a much more comfortable experience and helps keep cleaner ears.
Moreover, bone conduction is another opportunity for some of the hearing-impaired people.
Back in the days, they needed an implanted device through surgery to convert the through-the-air sound transmission to vibration.
Now, this process could be replaced by these commercial bone conduction devices on the market, without any risks a surgery would possibly bring.
Apart from that, for some high noise working environments, bone conduction definitely sounds better (more efficient) than traditional earbuds with your ears blocked by earplugs.
So do you need bone conduction?
Not necessarily. But it does help to improve your life quality if you fit in the using scenarios.
(Hoyee Eyes Smart Glasses)
If you do need bone conduction as a hearing aid, most bone conduction glasses alone in the market today won't qualify.
In fact, this may have nothing to do with bone conduction already.
Non-bone-conduction glasses (or directional speaker glasses) could also be used as a hearing aid, as long as they could receive the sound, enhance it, and play it louder, better to the wearer.
There are really few audio glasses that support this feature out of the box.
But with this little gadget, your smart glasses (or any headphones, wireless or not) instantly turns into a hearing aid device.
You can pair this device with your smart glasses and put it on the table or somewhere not so obvious where the conversation takes place. You can even hide it in your pocket. Then it will transmit the sound directly to your ear through your audio glasses with an adjusted volume you feel comfortable with.
If you are being creative, you may even use this as some kind of real-time eavesdropping device to prank on someone, since the connection range is more than 10 meters.
---
Zungle started out as a Kickstarter project and was one of the first to combine bone conduction with fashion sunglasses and spread the word about it.
But still, I think many would agree with me if I say, Zungle Panther (first generation product of Zungle) was not worth the money.
Every single part of it was not acceptable – the frequently not working touchpad, the terrible sound quality, and unbearable sound leakage.
Luckily, Zungle released their second-generation product – Zungle Viper & Lynx in 2018, which accepted huge popularity both online and offline at that time.

As the subsequent model of Zungle Panther, Zungle V2 comes in 2 versions – Viper with the classic Wayfarer style and Lynx with a versatile round style.
Comparing to the previous version, the Bluetooth is upgraded to 5.0 but the battery is reduced from 300mAh to 115mAh.
In our test, we find the battery life is about the same as Panther – 4 hours or so depending on how you use it.
With its battery capacity significantly reduced I'm curious why the weight is added to 50g, comparing with the previous 45g weight.
Apart from these differences, what is loved and discussed most is the sleek new design, apparently much more high-tech and stylish. With 5g more weight the glasses look compact and simple rather than cumbersome.
The upgrade we love most is the sound leakage control. It's without a doubt better contained, allowing a higher privacy level.
Above all, this is not a huge upgrade from Panther. But from every aspect of it, we can see that Zungle is heading for the better.
One thing to note is that whatever their product is like, Zungle is one of the few brands who actually listen to customers and deliver on their promises since their Kickstarter project.
If you've never tried a pair of bone conduction glasses, we highly recommend Zungle Viper to be your first.
At the moment Zungle is sold both on its official website and Amazon. Personally, I recommend purchasing on Amazon because of its better service. (According to my experience, Zungle official site customer service is constantly out of service.) There are three sellers currently selling Zungle Viper on Amazon but THIS is the only official Zungle listing. As of Feb, 2020, it seems Zungle Official no longer sells on Amazon due to its negative review there.
It's probably not fair to have Bose Frames here since it is actually not bone conduction.
This is a pair of Bluetooth audio glasses with miniaturized high-quality Bose speakers.
We have it on our list because those who need audio sunglasses with high sound quality may find this better than bone conduction sunglasses.
After all, Bose made them. How bad could they be?
Two things we'd like to point out.
Firstly, during our test, we find there's basically no bass effect, a real bummer for those who love bass.
And the louder the environmental noise is, the harder you could hear the music.
Zungle Viper and VocalSkull Alien 5, however, due to their bone conduction nature, perform better when it comes to noisy environments listening test (with earplugs in your ears).
But again, every coin has two sides. In terms of high-pitched sound, general audio quality and immersive experience, Bose Frames is definitely, undoubtedly better. So it's up to your personal using cases.
Apart from Bose Frames, Hoyee Eyes Smart Glasses are also another pair of great Bluetooth glasses that are not adopting bone conduction technology.
First seen in April 2020, Hoyee Eyes Bluetooth glasses are perhaps one of, if not the most comfortable glasses on the market so far.
As said in the brand tagline, Hoyee Eyes glasses are optimized for wearing experience. From first glance, they do look like normal glasses rather than bulky bone conduction glasses.
After trying them on, I'm even surprised at how comfortable they are.
The fact that they actually weigh more than 35g won't at all affect the comfort level.
If it's not that I often accidentally activate the touchpad, I probably would use them as my everyday blue light blockers.
Yes, the touch area is really kind of a bummer. The two touching areas are near the hinge of the glasses and are often touched upon when taking on and off the glasses.
So sometimes when you are just trying to adjust the position of the glasses on your face, you pause the music by accident.
This just takes dozens of times of practice before you get used to the touch area and not activate it by mistake. This is also why I really don't like touchpad on smart glasses.
As for the sound quality, well, it's top-notch among audio glasses.
Just like Bose Frames, it's better than most bone conduction glasses, probably because of the latest audio speaker and Qualcomm aptX chipset adopted inside.
Hoyee Eyes advertises its sound quality as CD level. That's definitely an exaggerated description but really a close one especially (perhaps a little better than Bose Frames) when it comes to classical music or audio books.
However, if the environment is not extremely quiet, you often need to adjust the sound volume to more than 70% to comfortably hear the music. And when you are driving or walking outside where there's lots of background noise, a minimum of 90% sound level is needed.
At that sound level, it's almost impossible to contain the sound leakage. Of course if the environement is noisy people around you still cannot hear exactly what you are listening to even it's more than 95% of volume. But walking into a quieter room you will probably find it suddenly becomes too loud for others not to perceive it. And this is the scenario where bone conduction usually does a better job.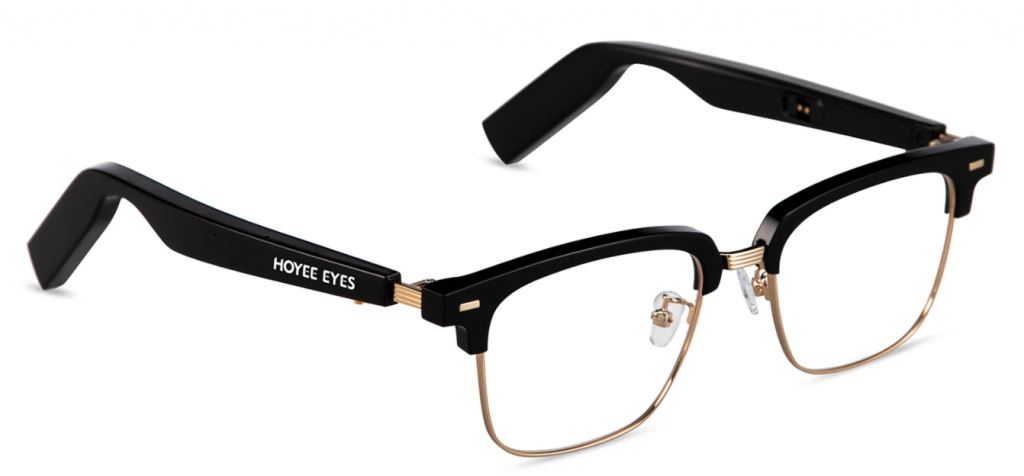 Hoyee Eyes Bluetooth Smart Glasses come with more than 10 models, which are Viva, Luna (both are blue light blocking glasses), Galaxia (polarized sunglasses), Astrid and Nova (different frame style, available in both blue light blockers and polarized glasses). The new models are Navigator, Emma, Monarch, Envison, Frost and the Smart Plus Series.
Just like Zungle, VocalSkull Alien 5 is also the company's second-generation product.
But unlike most of other bone conduction brands, VocalSkull skipped the crowdfunding stage and directly launched their first generation product on Amazon.
They dare to confront the bad reviews and expose their products' drawbacks to consumers and continue working on their products until they are better.
Just to clarify, after contacting VocalSkull sales representative I find that there is no Alien 4 or 3, and their 1st generation is just called VocalSkull. And the 2nd generation starts at 5. What a weird naming strategy.
Anyway, Alien 5 maintains almost the same look like its previous version, with its vibrator changed from a balanced armature to a moving coil driver (also called a dynamic driver/speaker).
According to VocalSkull, this change resulted in a huge improvement in its sound quality and leakage control.
Since we did not purchase a 1st generation product, we are not here to judge that.
But Alien 5 does provide almost the same level of sound quality (high-frequency sound is not as good) and leakage control as Zungle Viper for apparently a cheaper price, even though the general look is not as stylish and high tech as Zungle. Judging from 2021, I'd say the audio quality really sucks comparing with today's directional speaker smart glasses.
Because of the super lightweight material, Alien 5 weighs only 32g, significantly lighter and feels a lot more comfortable.
The music play time is also about 4 hours long according to our test, with a 250mAh battery, this is apparently not an impressive result.
Currently, VocalSkull sells on multiple platforms. You could find both generations on Amazon and see what they are talking about the improvement.
VocalSkull literally dominated the first page of the search result for the keyword bone conduction glasses until Zungle Viper joined the fight.
Beware there are only two sellers selling VocalSkull officially. They are Horizon Outdoor and VocalSkull. Check the skull logo to distinguish the 2 generations.
Remember in the first section of this post I said about an important feature that most smart glasses lack and only one brand supports?
Here it is: Alien 5 (not other models of VocalSkull) supports Bluetooth Multipoint Connection.
This is a common feature in today's TWS headphones. But I don't know why it's so rare among audio glasses.
If you don't understand what a Bluetooth Multipoint Connection is, leave a comment and I'll make a new post explaining why it's important in today's life.
Gonbes G1 actually has lots of other names from different sellers. The brand, Gonbes G1, is just the supplier's name.
Some sellers continued to use that name as a brand, others changed it, just like AcTek from BJVison, the next bone conduction glasses brand we are about to introduce.
So don't be surprised and confused if you see two exactly same products with different brands.
Some genius marketing masters even build their online shop around this very brand, with twice or three times the price. And they are thriving. More on this later.
G1 has been on Amazon since 2017.
In its heyday, the price even rose up to $100 and now it's generally been around $70.
Even though it's a bit old, it's still a solid pair of bone conduction glasses with a sensitive touchpad (at least better than Zungle Panther in my opinion).
Sound quality is ok and weighs 45g. No particular drawbacks.
If you are on a tight budget, give this one a try. Just target the lowest price here on Amazon, as they might just be having a clearance sale.
Again, you may run into many different names with the same look.
Yes, they are the same for sure. Also has been on Amazon since 2017.
Yet this is the only decent bone conduction glasses with a sports style (apart from OptiShokz Revvez, which mysteriously disappeared after 2020), suitable for cycling, running and all sorts of outdoor activities. Totally worth it considering its price.
Ossii Glasses feature an aerospace metal tool-free front rim and a 3-point locking system that lets you instantly change the visual experience based on your surroundings.
We are familiar with modular phones and now here comes the modular glasses.
Not only could the lenses be effortlessly swapped, but even the bone conduction speakers are removable as well when you just want it to be a normal pair of sunglasses. The whole body of the glasses is IPX6 certificated so it could easily handle water splash and daily dust.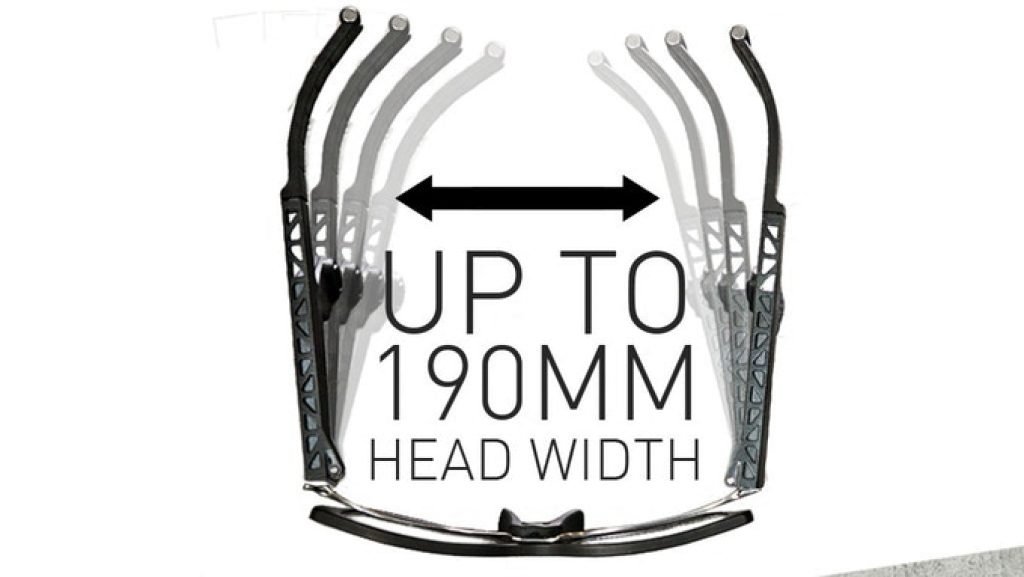 The only thing I don't like is the frame legs which have been deliberately made thicker to fit the slideway for the detachable Bluetooth module, though due to the material it's still lightweight. Anyway, Ossii Glasses will make a good pair of modular glasses for different occasions.
Right before the start of 2019 Chinese New Year, Ossii finally began to ship their products to customers.
For the record, we didn't purchase this Voxos Smart Glasses.
Before buying any glasses, we usually do a background investigation, research on the product to see if it's really worth it for a review.
This one, Voxos Smart Glasses, even though it has its official brand site, we believe to be exactly the same glasses as the Gonbes G1 Bone Conduction Glasses mentioned above.
And it's priced £199.00 – £279.00 – incredible!!!
The only part different is that this Voxos provide prescription lenses.
We've seen all glasses in this industry and trust me, Voxos is Gonbes G1 and they are priced 3 times higher.
Well done, Voxos.
Lucyd Loud Glasses is another doppelganger of Gonbes G1 priced at $99.
These guys are really marketing geniuses.
The only reason we are listing Voxos and Lucyd Loud here is that we hope nobody spends twice or three times the money to buy glasses that they could have bought for just $70 or lower.
So, sorry about that, Voxos and Lucyd.
LET Glass presents themselves as the smart home center and acts as your daily A.I. assistant.
Its frame is integrated with the built-in ARM Cortex processor, allowing for everyday activity tracking.
With its dedicated app installed in your phone, you could easily set reminders, enable broadcast to get GPS directions and accurate weather report.
Comparing with those old-fashioned Clark Kent bone conduction glasses, the frame and legs of the LET Glass are so slim that at first glance you wouldn't even notice it's a pair of smart glasses.
But it does feature a built-in microphone bone conduction speaker and the touch interface is embedded on the side of the frame.
With its integrated ARM Cortex processor, you could easily track daily activity without even touching your phone.
The glass is also integrated with Amazon Alexa and other voice assistants, so you could interact with your smart home wherever you are.
It also has photochromic lenses, clear indoors and dark when exposed to sunlight.

LET Glass was crowdfunding on Indiegogo and now is at the production test stage and has been there for quite a while.
According to their February update, there are still some minor defects in the mold that need to be fixed. If everything goes well, they will enter mass production assembly in April.
If they could have been shipped as planned, I'd have had no hesitation deciding that LET Glasses and Vue Smart Glasses are the best ever smart A.I. glasses.
But the truth is they seem to be way behind schedule. Let's hope the glasses will be sent out soon.
Vue's bone conduction sunglasses basically has everything LET does, except that Vue Smart Glasses have the 6-axis accelerometer & gyroscope sensors, enabling more accurate activity tracking (LET probably has sensors too, otherwise they would have to track through your cell phone sensors).
If you notice, Vue is the only bone conduction glasses that specifically calls itself "Smart" in their official title. (Not anymore in 2021, but still, Vue has done so much what today's so-called smart glasses couldn't)
I'm not saying that it is an artificial intelligence assistant. But since they have so many sensors and smart features, Vue deserves this name more than other brands who, though have no feature near AI, still have the gall to name themselves AI smart glasses (As a matter of fact, Smart is Vue's first special feature, bone conduction is the second).
Activity tracking is the core of Vue. Just a couple of years ago, you needed those smart wristbands to analyze your sport, now a pair of glasses will do even more.
Apparently, their estimated delivery was originally somewhere in 2017 but again, you know what's the case.
Activity tracking is the core of Vue.
Just a couple of years ago, you needed those smart wristbands to analyze your sport, now a pair of glasses will do even more.
In conclusion, Vue focuses on activity tracking while LET is aimed at controlling your smart home (if Vue has made it, but apparently not).
At the moment there are 3139 comments from backers of Vue on Kickstarter talking about the delivery date but it does not help to speed up the campaign. All we could do now is wait.

Well said George!
DigiOptix Camera Bone Conduction Glasses may be the glasses many have been craving for a long time.
It dispenses with traditional spy glasses' large cumbersome frames and has a relatively thin and lightweight outfit with both built-in camera and bone conduction speakers.
Connecting with your cell phone, these glasses may even implement more smart features. Calling it a James Bond gadget wouldn't be too much.
I've already imagined so many scenarios where I could easily use these camera lenses to do something I probably am not able to do with traditional glasses and cameras.
I do have some scruples using them and there may also be some legal issues as to where and how you could use them. But just have the thought of wearing such a pair of bone conduction sunglasses makes me excited.
On one side of the glasses arm, there is a gesture panel for music controls like the first generation Zungle Panther.
Although it's too soon to tell whether this feature is good or not, but judging from the gesture performance on Zungle, it's bad.
They should try to develop interactions other than gesture control because it really sucks.
Features like Zungle Viper's A.I Voice Control is a better alternative.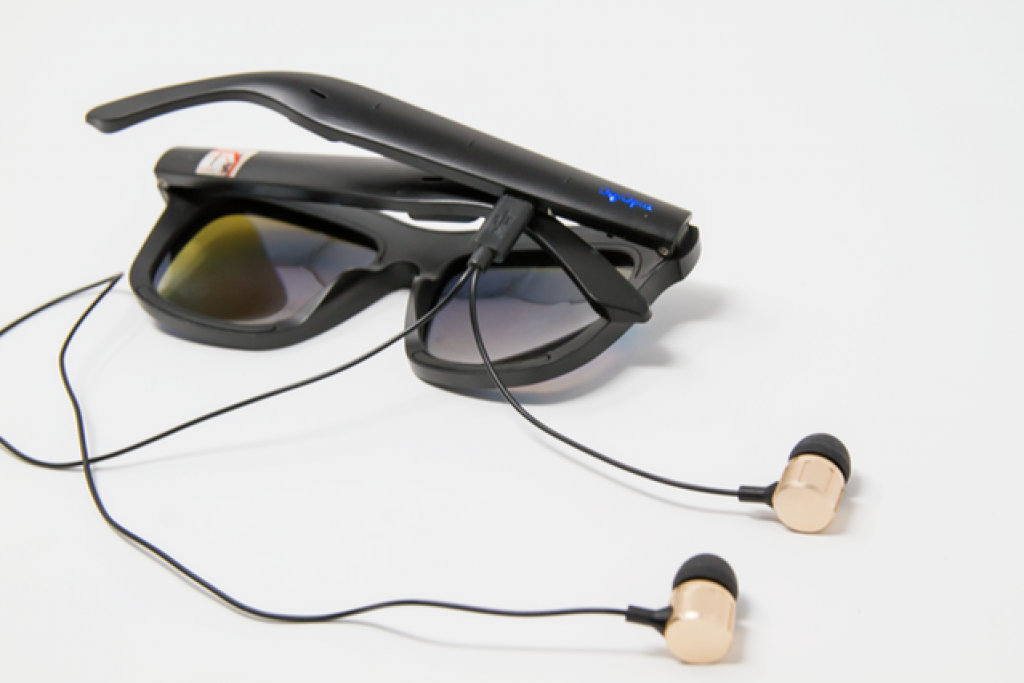 The additional headphone jack is really a plus because now you don't need to put up with the sometimes distorted bone conduction sound quality. But this feature really contravenes the original idea of bone conduction technology.
We wear bone conduction headphones not because they sound better but because they could offer a way of listening in which both our ears could be open to the surroundings so that we are fully aware of the environment.
And this port just ruins it. Anyway, it does provide a way to enjoy better sound when you want to.
DigiOptix Bone Conduction Camera Glasses is also a project on Kickstarter and is estimated to ship to backers in September 2017.
Now in 2019 nothing happened. The last update was in March 2018 saying that their ETA was then May.
Until today this project has raised $17,754, $7754 more than their goal. And backers get nothing in return. Undoubtedly a scam.
If you are just looking for video glasses, you have better options with OhO Sunshine.
MusicLens was the only bone conduction sunglasses brand that took part in the 2018 CES. Despite its ambition, the immediate result seemed not to be what they had expected.
According to Rhiannon Williams, who was there at CES 2018 to experience the MusicLens, there definitely was something wrong with the bone conduction speaker they used.
She later wrote in her news report,
While the glasses themselves were lightweight and not entirely hideous, it was extremely difficult to actually hear the tinny music blasting from the small speakers.

Rhiannon Williams
You can find her whole news report on MusicLens here.
A year later in 2019, MusicLens seems to be upgraded in every aspect and they start their crowdfunding project on Indiegogo.
It so far has been a huge success – $52,784 USD raised by 516 backers, 527% of their original goal when there are still 20 days left before the campaign ends.
The product is already in the production stage and the estimated delivery date is March. We will continue to follow the campaign and see if we could receive the product in time.
Priced at $169, MusicLens frame came in 3 styles and 2 colors for different demographics. In the year past, they've upgraded it to Bluetooth 5.0, and added touch and heartbeat sensor and what we like most – Type-C charging.
Apart from that, MusicLens features IP54 water and dust resistant and smart facial recognition to identify wearing status to pause and play music, the same technology also used on Bose Frames.
What's more, there is a killer feature in this product – with MusicLens you can listen to the radio directly without your phone.
This is probably not a function everyone longs for but it definitely raises somebody's appetite.
MusicLens has also updated its official website introduction page. Looks like they are pretty confident of their product. Here's something I find interesting.
MusicLens has cited this testing data by a third-party called Audiosmart Testing Institution.
According to their result, MusicLens beats Zungle and Sogen both in sound quality and sound leakage.
This is huge information.
Let me fill you in on the other 3 glasses listed.
Zungle, seen from the picture they provide, it's a Zungle Viper, aka the latest version, as we talked above.
Vertu Glass, a pair of bone conduction glasses Vertu specially offered for the Chinese market, already discontinued for whatever reason. No opportunity to review.
Sogen, the supplier of many unbranded bone conduction glasses.
Part of the data does make sense.
According to our test, VocalSkull Alien 5 and Zungle Viper do provide a similar user experience in terms of sound quality and sound leakage. This is consistent with the data provided by this Audiosmart Testing Institution.
However, according to its data and score, MusicLens's performance is way better than the other three.
If this is true, then MusicLens as a latecomer will absolutely rule in the bone conduction industry.
We know we are not in the right position to judge, but isn't this data too good for a new brand?
Unless they have access to some revolutionary bone conduction new technology, I could not think of other reasons.
At the moment we are unable to verify the data source and Google showed no related result when we tried to search for Audiosmart Testing Institution.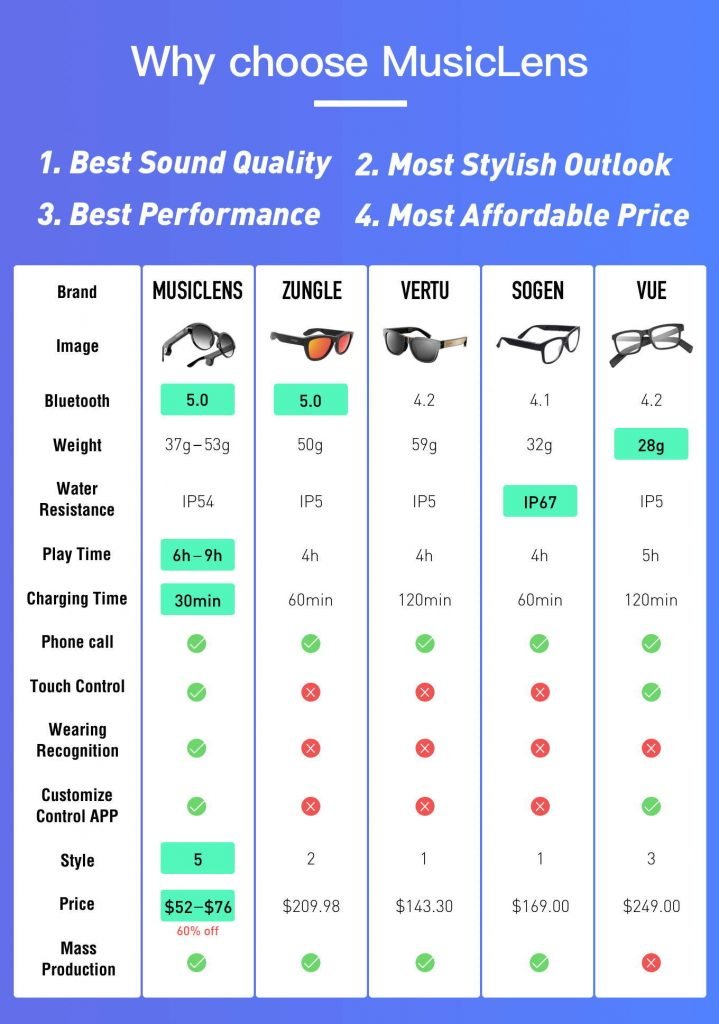 Quite a detailed comparison.
OptiShokz, the industry expert AfterShokz's sister company, has just released their first bone conduction sunglasses on Indiegogo.
This is perhaps the moment we've all been waiting for. With its great strength in bone conduction headphones, we wonder what kind of shock AfterShokz could bring to the sunglasses industry.
Completely different from other bone conduction glasses, Revves's vibrators are integrated at the end of both arms and wrap around to stick to the cartilage behind your ears.
According to AfterShokz, this is the best way to transmit sound into your inner ear, hence bringing the best sound experience.
We've already been on the waitlist. Can't wait to try them.
---
back to menu ↑
Verdict
If you are looking for a pair of smart glasses that can track your everyday sports, wait for Vue Smart Glasses (Vue Pro), but prepare for the sound quality, it's just not worth the price, in my opinion.
If you already wear glasses or care too much about comfort level and sound quality, Hoyee Eyes Bluetooth Smart Glasses will make a great choice.
If your house is highly digitalized and you want everything in your smart home in control, LET Glass is your choice (Let failed so this will pass).
If you often appear on different occasions and need to change your glass style accordingly, try Ossii Sound Glasses.
If you care too much about sound leakage, go for Zungle Viper or VocalSkull Alien 5.
If you need multipoint connection, your only choice is VocalSkull Alien 5 (and you have to endure the poor sound quality.
If all you want is sound quality, Bose Frames / Hoyee Eyes Smart Glasses will be your choice.
If you frequently take part in outdoor activities and want a sports style, get AcTek Bone Conduction Sunglasses or find a way to get the OptiShokz Revvez Glasses.
If you think none of the glasses above meets your demand, perhaps you could wait and try MusicLens?
And the glasses to avoid are Voxos Smart Glasses, Lucyd Loud Glasses and DigiOptix Camera Glasses – two overpriced glasses and one scam.