Is buying good Bluetooth audio sunglasses always a crapshoot?
It doesn't have to be.
In this guide, I'll provide you with expert advice and insights into how to choose the best Bluetooth audio glasses and sunglasses for your needs and offer a list of glasses we recommend. Whether you are a first-time buyer or looking to upgrade to a better pair, this is the perfect guide for you.
What Are Bluetooth Audio Glasses?
Bluetooth audio glasses are a type of smart glasses with built-in speakers and microphones that you can use to listen to music or make phone calls without blocking your ears. You can also use their wake-up feature to interact with your voice assistant on your smartphone. They are usually compatible with any device that has Bluetooth features.
Although still relatively small, the Bluetooth glasses market is in rapid growth these days. With new brands emerging and challenging established players, the market can be a bit chaotic. This competition also presents us with more opportunities to find higher quality glasses at lower prices and offers smaller brands a chance to make a name for themselves.
This guide is focused on Bluetooth audio glasses with air-conduction speakers. In terms of audio quality, they can never replace your in-ear headphones. They have less bass effect, and more audio leakage. In fact, if you've never tried them before, you might be disappointed in most of these glasses' audio effects the moment you wear them and hear the tunes coming out of them. I've been there.
In outdoor noisy environments, in order to hear the sound clearly, you'll often need them at 70% volume levels at least, so there comes the sound leakage issue. If you're near someone, they'll hear tinny sounds emanating from your glasses.
These are the common weaknesses ALL audio glasses have.
On the other hand, if you are ok with the leakage, and understand, it's more than enough to use them for podcasts, audiobooks, or phone calls where the human voice is the main audio.
By comparison, audio glasses with bone conduction technology may even deliver inferior audio quality, especially in bass performance. But they are for a completely different audience. If you are also interested, we have another guide for bone conduction glasses.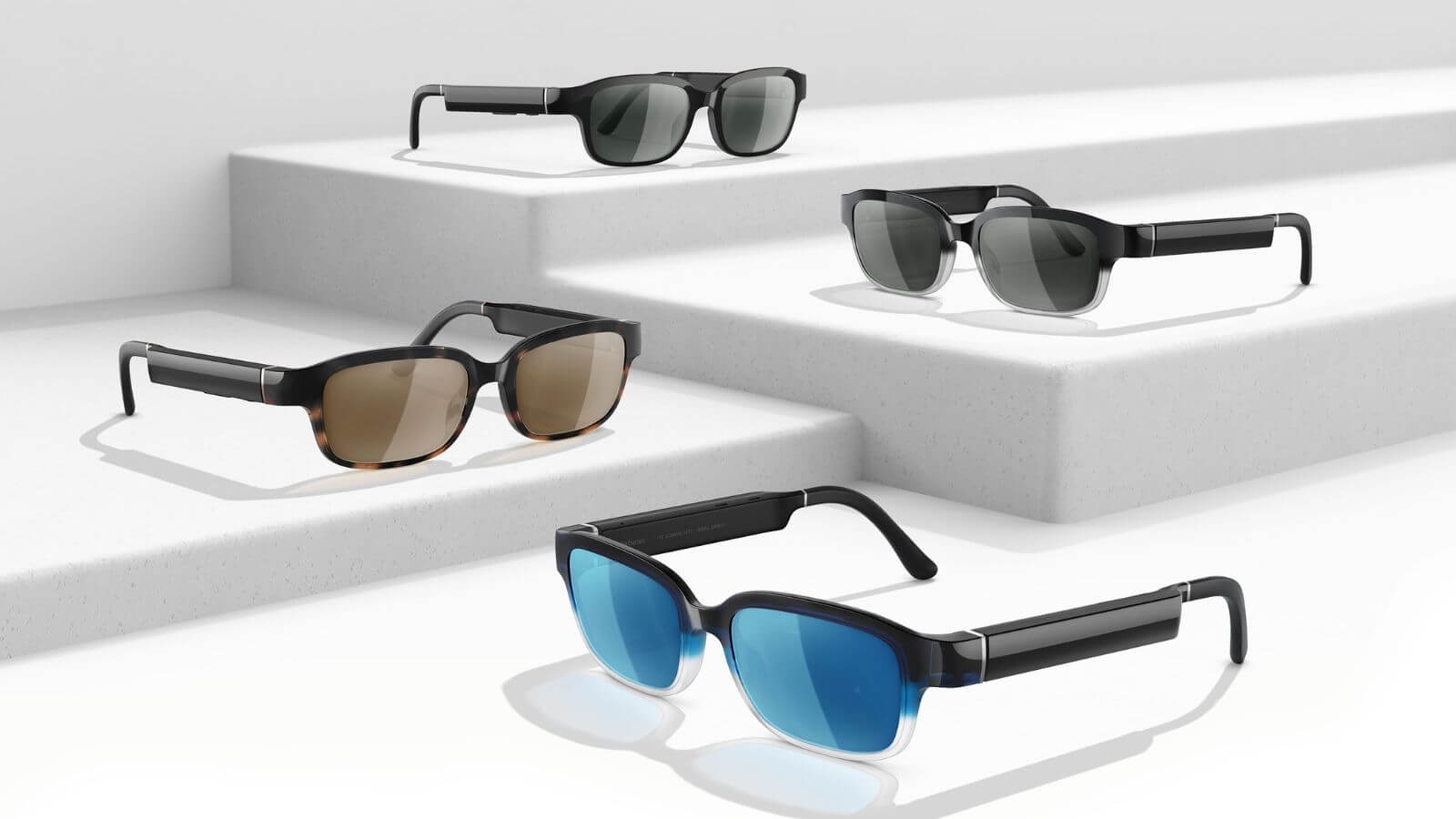 By using scenarios, we classify them into three types: everyday use, sports, and safety. They each have unique design and performance features that are tailored to their specific use cases.
Everyday Bluetooth Glasses
Bluetooth audio glasses and sunglasses that are for everyday use typically feature thin, lightweight and unobtrusive temples to avoid unnecessary attention. These models often boast the widest selection of styles, making them a more fashionable choice among the three types.
However, because of the thin, slim, regular arms, there's limited space inside, larger batteries and high-quality audio systems are harder to fit in. So when choosing this type of glasses, try to lower your expectations on battery life and sound quality.
Sports Bluetooth Glasses
Sports Bluetooth glasses are for outdoor activities such as cycling, running, or mountain climbing. They usually come with polarized sunglasses lenses and are designed with outdoor features in mind. To reduce wind resistance, they often have aero-dynamic shapes and wider temples. This makes integrating larger batteries and audio components possible. The microphones are also noise canceling to deliver better phone call quality in strong winds. As a result, the general audio quality of these glasses is a bit higher than those for everyday use.
Bluetooth Safety Glasses
These glasses are designed for people who require lenses with high intensity, shatter-resistant properties, or other protective features. Due to their complex fitting requirements, some of these glasses may be replaced by sports Bluetooth audio glasses since there is overlap. However, if strict requirements are necessary, only accessories designed for safety glasses can offer both audio functionality and protection.
We'll talk about all three types and give our recommendations. Here are the top 10 best Bluetooth audio glasses (and accessories).
Best sports-style audio glasses with best sound quality
Bose Frames Tempo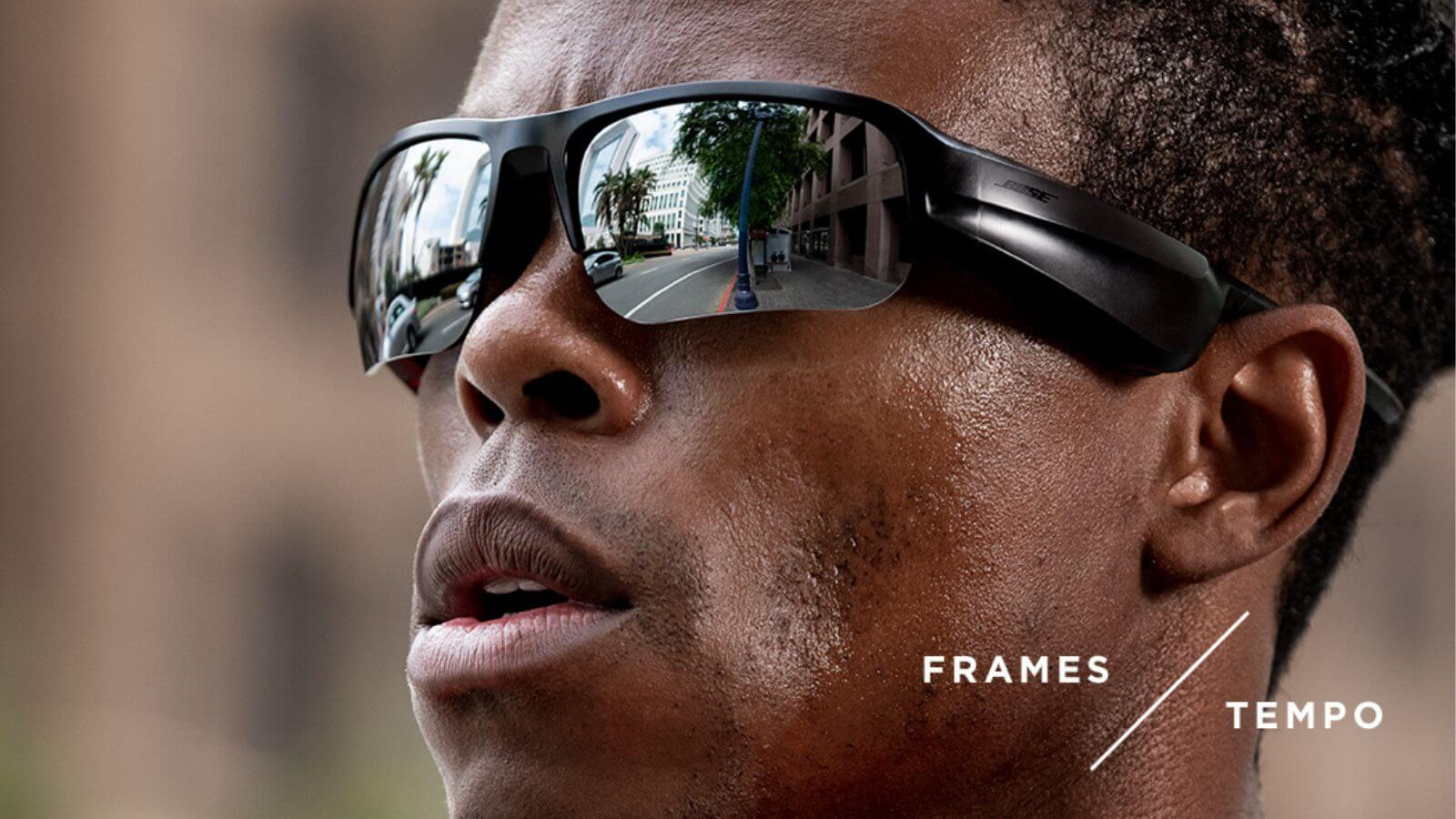 Bose Frames Tempo is a pair of audio glasses designed specifically for sports. Just like Tenor and Soprano (talked about below), it's the second generation glasses from Bose, with quite some improvements such as adding volume control and better audio quality.
At first sight, they may look chunky and heavy. But they are how they look just to have enough space to hold Bose's years of experience in audio tech. Without doubt, the audio and leakage control from these glasses are one of the best that audio eyewear could deliver. This comes from 1. bigger speaker units placed inside, and 2. the position of the speaker grilles. They are in the middle of the arms, right above your ear, which guarantees that you are the only receiver of what you listen to.
However, with such clunky eyewear on the head, it may take some time before you get used to it. Tempo weighs almost 50g (1.76 oz) with the lenses but with the balanced design, you won't feel too much weight on your nose. The thick temples, on the other hand, do press down on your temples very tightly. If you have a big size head like me, this feels pretty uncomfortable.
8 hours of playback time is more than enough for a day's use, especially if you are just listening intermittently. Because they are scratch-resistant and shatter-resistant, you may use them as Bluetooth safety glasses in some scenarios too.
For cyclist, you may wonder how well these work with helmets and what the audio is like in winds. I've tried with both road helmets and mountain bike helmets and they work perfectly. I have a older version of Shokz (Aeropex) and with the trail-style helmet (where it comes down in the back a little), the helmet kind of presses on it. But with Bose Frames Tempo, no issues at all. With the new dual microphones system, it delivers very clear sound even when cycling in wind.
Top choice for audio sunglasses
Bose Frames Tenor and Soprano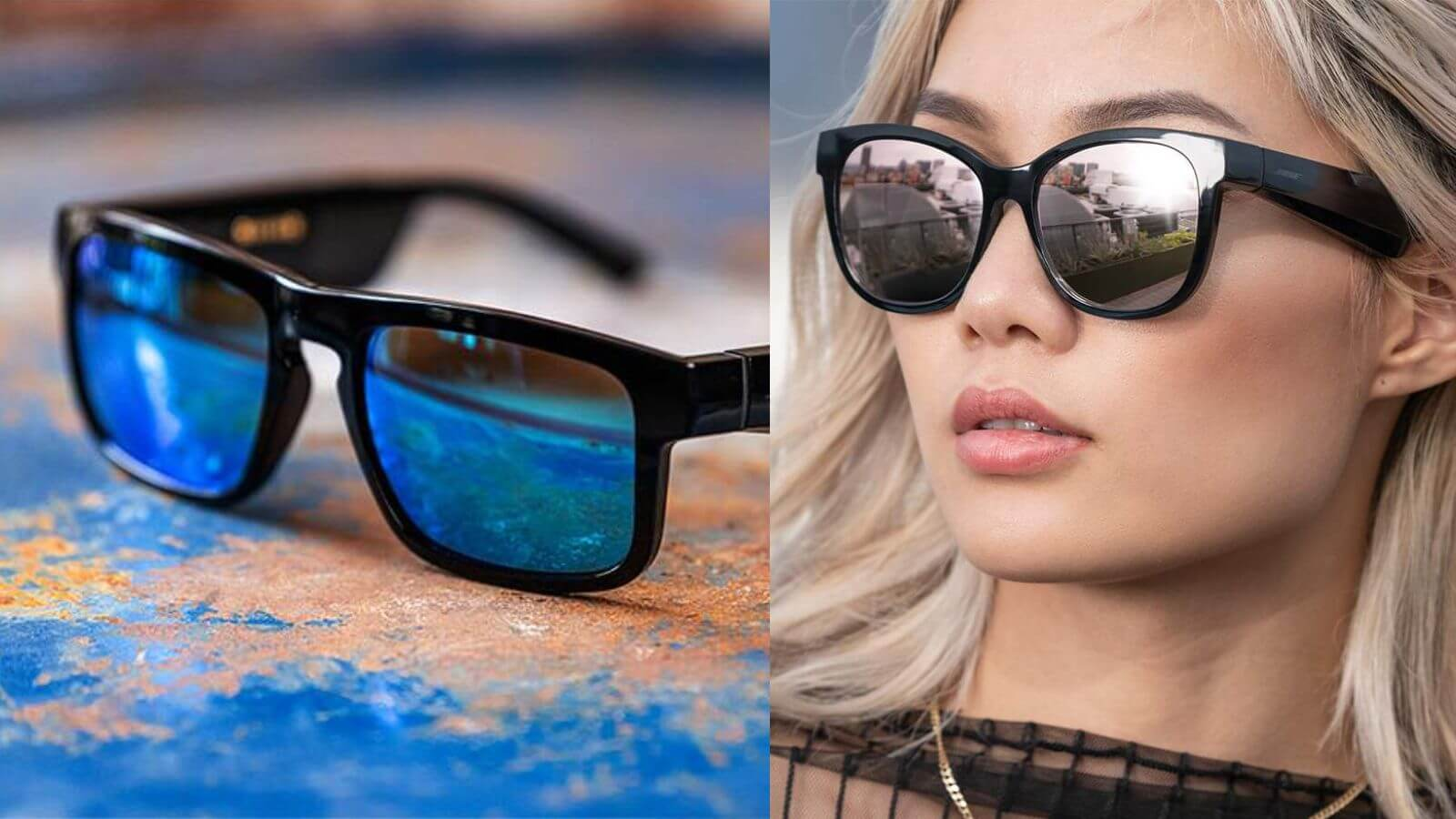 These audio sunglasses are apparently targeted at people who prefer regular styles that they can wear everyday. They come with polarized lenses and have thinner, less obtrusive temples and thus they won't draw unwanted attention when you wear them. Bose may have cut the temple size, but the audio quality stays almost the same except for the bass sound and loudness. Tempo uses two 22mm drivers, which are significantly larger than the 16mm drivers in Tenor and Soprano. This resulted in the surprising bass effect in Tempo. At about 50% sound volume, Tempo also sounds a little louder. Given how slim the arms of Tenor and Soprano are and how much inner space they lose, I won't complain about this at all.
Although open-ear, you still need to adjust the volume regularly on various occasions. On the right arm, you'll be able to swipe to adjust easily. And it's worth mentioning that on Tenor and Soprano, it's easier to swipe because they have a smooth, plastic finish while Tempo uses a matte finish (while I personally prefer the matte finish).
Note that Tenor and Soprano use a proprietary 6-pin magnetic charging cable to charge, while Tempo is via the popular Type-C connector. Sure, the magnetic charging easily snaps on, but if you are constantly on the go, it's really painful to pack an extra cable every time.
Since Tenor and Soprano have a more regular style, it's perfectly natural someone would want to swap in clear lenses, and blue light lenses or add prescription lenses. Bose does offer interchangeable sunglasses lenses officially in their store (for both the everyday and sports style), but if you need prescription lenses, they are offered in other online stores such as lenslab that Bose partners with.
Best modular glasses; Best for everyday wearing
Soundcore Frames By Anker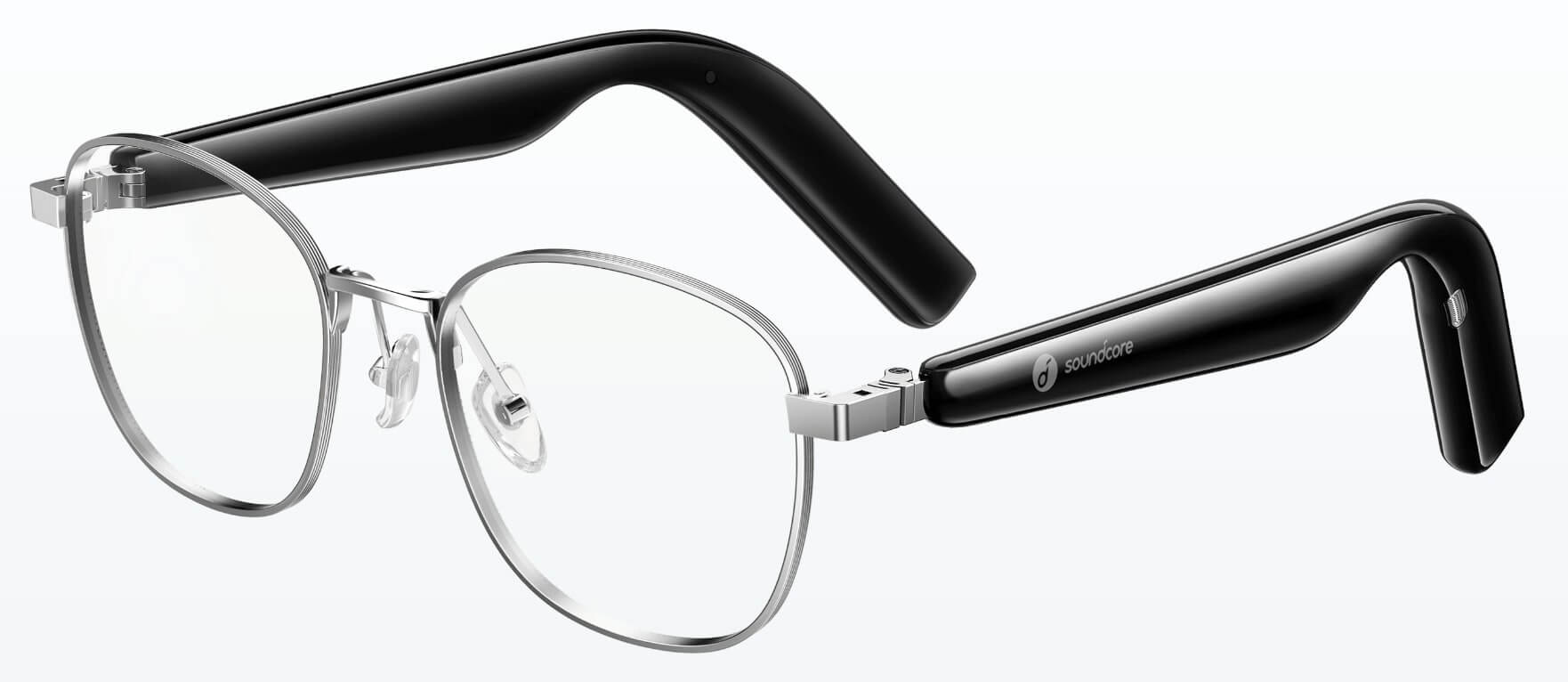 Soundcore Frames Bluetooth sunglasses are one of the top choices for audio glasses we recommend. You can spend $149 and choose the base model with the frame type you like and stop there. But then you miss the best part – they have interchangeable front frames you can easily swap in for any occasion and mood. For an extra $30-$40, you can choose between the four decent frame styles (Landmark, Tour, Wander, Cafe) and more are on the way. They also offer frames bundle in which two frames are included.
In terms of the audio quality, it's one of the best below $150. With four beamforming speakers just like Echo Frames, Soundcore Frames offer a better listening experience for significantly less price. They don't have a convenient Alexa access like Echo Frames, but they do have someting called Local Voice Assistant. It's like an always-on voice control that doesn't depend on the voice assistant on your smartphone. You can use it to control music or calls directly, without the need to touch your phone or the glasses temples – a lite version of hands-free feature on Echo Frames.
Best as a voice assistant
Amazon Echo Frames (2nd Gen)
Comparing with 1st Gen, 2nd Gen of Echo Frames looks just a little less bulky now. They are the very few audio glasses that put the word "smart" in their titles. The main reason is Echo Frames use Alexa to seamlessly interact with your smartphone. The voice assistant Alexa is not completely built into the glasses as you still need it installed on your smartphone. But Echo Frames are also one of the very few audio glasses that support voice trigger as they have always-on Alexa voice control, meaning giving orders to your voice assistant without touching your glasses the whole time. Just like the Hey Siri feature on iPhone. This truly opens a door for hands-free interaction. By comparison, with other Bluetooth glasses, to trigger the voice assistant you'll often need to tap or long press the touching area on the glasses temple.
There are currently seven colors to choose from. Three are designed for everyday use with blue light filtering lenses and four are sunglasses. The difference is only in lens color and front frame color (and material). The lens shapes of these glasses are the same so you don't need to worry about lens compatibility issues.
The Echo Frames have two speakers on each side of the arms, and there's a physical button to control the volume, which I personally think is a lot better than a touch pad. While four speakers, the sound quality they deliver is just average. There are distortions at near 90% volume for some types of music and there's basically no bass. If you need to enjoy music over the sounds of public transports outdoors, that volume level is usually a must. If you listen to music more and use voice commands less, it's maybe better to get Bose Frames instead for almost the same price.
Top choice for audio glasses below $50
Razer Anzu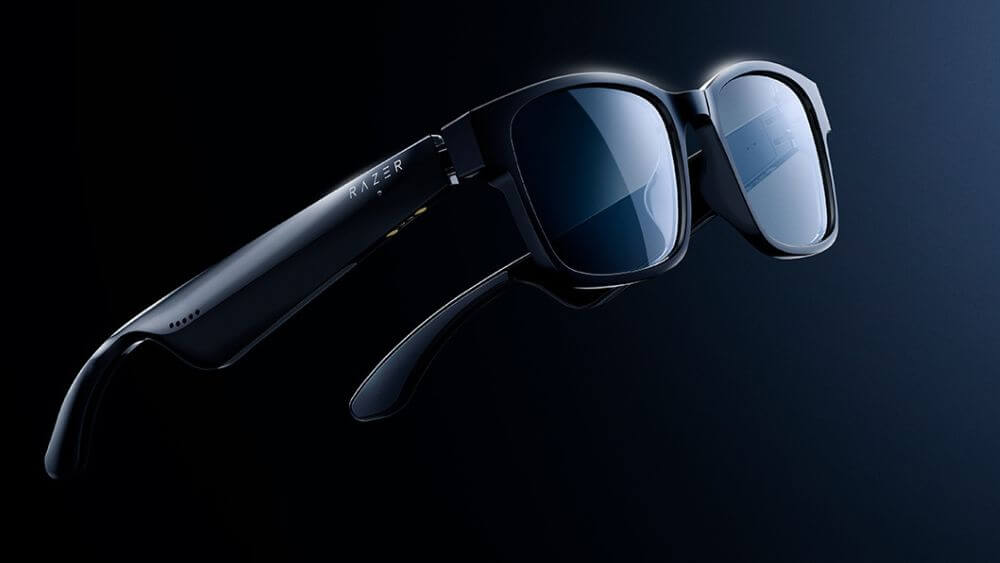 Razer's glasses really remind me of the 1st gen Bose Frames. They have the same temple shapes with speaker grilles almost in the same position. The Rectangle and Round styles are also the doppelganger of Alto and Rondo. And the audio quality, guess what, is about the same and they are constantly sold at $49.99.
Yes, we complained about those heavy-duty temples on the previous gen of Bose Frames and how they were uncomfortable compared with thinner arm designs. But if you're looking for a more affordable alternative to Bose Frames, they are definitely a top choice.
These smart glasses have Bluetooth speakers with 16mm drivers, the same size as used in Bose Frames Tenor and Soprano, and deliver decent sound quality. You can choose from round or square frames in two sizes and switch between blue light filtering lenses and polarized sunglass lenses. They are a bit lighter than 2nd gen Bose Frames but have shorter battery life and the audio quality is well worth the price.
And if you play video games, Razer Anzu adopts Bluetooth 5.1 to achieve 60ms latency for better gaming experience. Considering it's 2023 and many glasses with higher brands are still using Bluetooth 5.0, this gives you even more reasons to purchase Razer Anzu.
Best as alternatives to safety glasses
OhO Bluetooth Sunglasses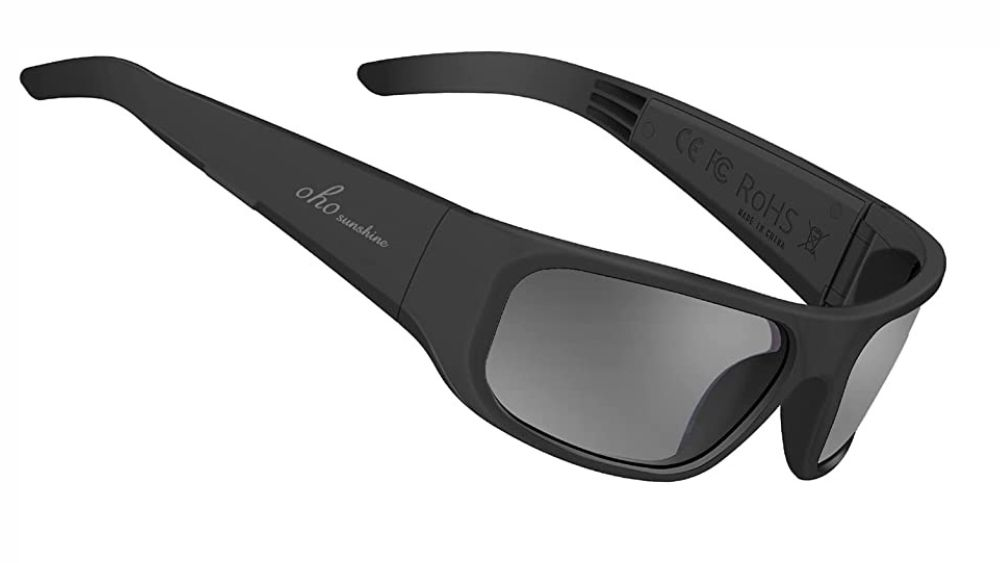 OhO's audio sunglasses date back to 2017. Over the years, the appearance of the glasses does not change much. They just gradually upgraded the Bluetooth version and had minor fixes on temple material, lens material and sound quality. They've proven their durability over time and have become one of the most popular entry-level sports Bluetooth audio glasses on the market.
Out of the box, OhO offers ANSI and FDA approved UV 400 polarized lenses, and the wraparound design fits snuggly with your face. So it's possible to use them as safety glasses in some scenarios.
In terms of battery life, OhO seems to have forgotten to upgrade it. Even with the latest version, you can barely get over four hours of playtime and one full charge takes about 1.5 hours. These were still the standards from a few years ago.
Officially, they don't support prescription lenses. Swapping the lenses don't take much effort so theoretically you could take them to your local optical store for a prescription. However, the wrap-around design and the shallow thin groove for the lenses make it difficult if you have anything level above a moderate prescription.
You can get them for around $60 with standard polarized lenses. They also offer photochromic lenses and lenses of other colors for another $25 to $30.
Best one-piece lens style Bluetooth glasses
Avantree SG188 Bluetooth Smart Audio Glasses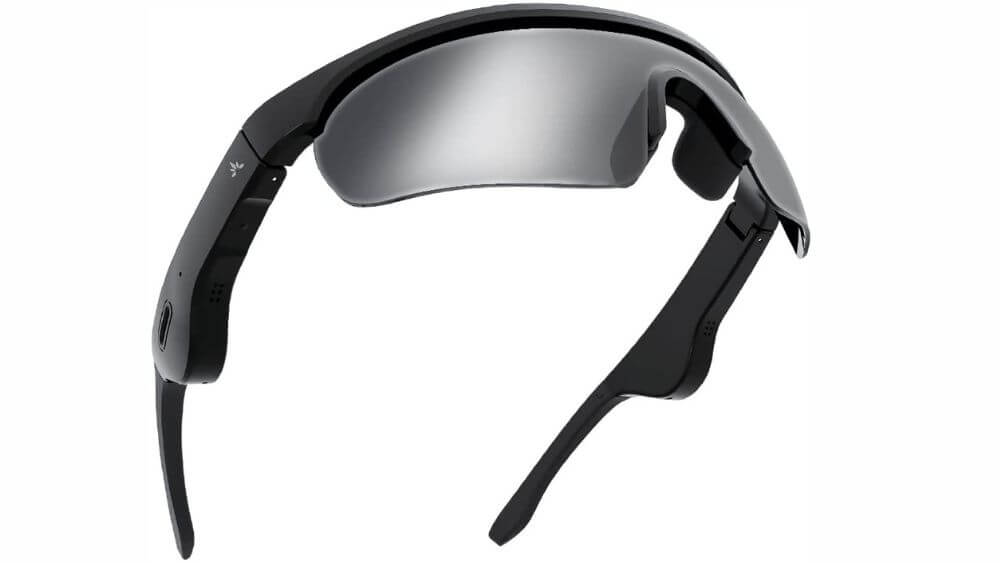 Just like OhO Bluetooth sports sunglasses, these glasses also feature a wrap-around style but with a one-piece lens. This offers superior coverage and clarity for your vision and because of the one-piece style, it's almost impossible to install prescription lenses on them.
The Avantree SG188 has Qualcomm aptX HD chipset integrated. While I'm not sure exactly which version of the chipset it is, for the price, the glasses do deliver quite good audio for both vocal and music. The glasses are designed for sports primarily. But if you need to use them indoors and would like to connect to your PC, another model – SG189 with the blue light filtering lenses would fit the bill. It also comes with a USB adapter in case your PC does not support Bluetooth.
The SG188 are IPX5 rated so you don't need to worry about sweat when wearing for outdoor sports. It offers about 5 hours of playtime with about 60% volume. It has dual microphones with noise reduction technology, and voices through them sounded a little better than OhO. It also supports AptX audio codec for better sound quality.
Best audio accessory for your glasses
JLab JBuds Audio Accessory For Glasses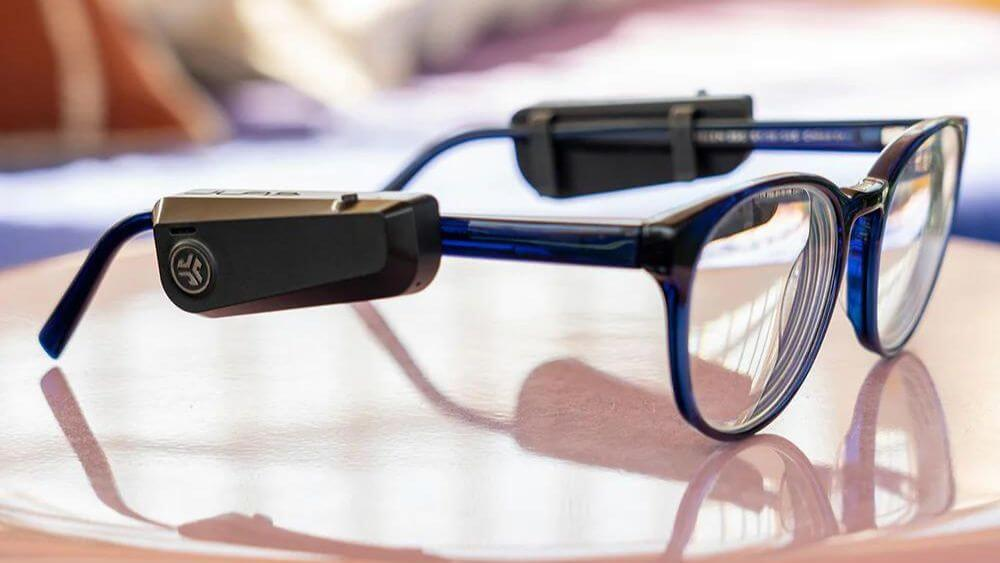 Our last recommendation on this list is not a pair of glasses. Rather, they are audio accessories for your regular glasses. There was once a time when glasses with extra earbuds were popular. JLab's JBuds just take it to another level. You can quickly attach these speakers to most of your eyeglasses and instantly convert them to a pair of Bluetooth glasses that connect to your smartphone and play decent audio.
Because JBuds are independent from your glasses' temples, the audio drivers and batteries are not limited to the small space. They also have 16mm drivers and the sound they deliver is more than impressive. The two JBuds can be used separately or together depending on your needs. And if you happen to need safety glasses with Bluetooth features, JBuds will be your best choice (as no Bluetooth glasses on the market are designed primarily with safety factors in mind for now). If you have a tight budget, need good audio, and don't mind this attching style, JBuds are the perfect accessory for your glasses.
From the first look, they seem to be even bulkier than the temples of Bose Frames but as they are affixed to the outer side of the temples, they don't add any tightness toward your head. So if your original glasses are comfortable, adding these won't change much. Note that if your glasses have very slim arms or arms with width wider (horizontally) than 4mm, they may be either very unstable or hard to attach.
Conclusion
We make these recommendations by the consideration on price, design, audio, battery, and other factors. But because this is a rapidly growing market with prices changing quickly and new players joining, I'm confident there will soon be newcomers that challenge the positions on this list. I'll try my best to keep this post up to date as I find new glasses that are worth mentioning. In the meantime, check our list here where we give more thorough reviews on a lot of other Bluetooth smart glasses on the market. And you might find newer, better audio glasses that suit your needs.